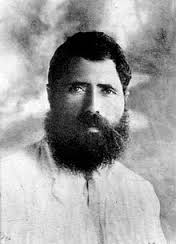 Y.H. Brenner
Yosef Haim Brenner (1881–1921) was a Russian-born Hebrew-language author and one of the pioneers of modern Hebrew literature.
In 1902, Brenner was drafted into the Russian army. Two years later, when the Russo-Japanese War broke out, he deserted. He was initially captured, but escaped to London with the help of the General Jewish Labor Bund, which he had joined as a youth.
In 1905, he met the Yiddish writer Lamed Shapiro. Brenner lived in an apartment in Whitechapel, which doubled as an office for HaMe'orer, a Hebrew periodical that he edited and published in 1906–07. In 1922, Asher Beilin published Brenner in London about this period in Brenner's life.
Brenner married Chaya, with whom he had a son, Uri.
Brenner immigrated to Palestine (then part of the Ottoman Empire) in 1909. He worked as a farmer, eager to put his Zionist ideology into practice. Unlike A. D. Gordon, however, he could not take the strain of manual labor, and soon left to devote himself to literature and teaching at the Gymnasia Herzliya in Tel Aviv. According to biographer Anita Shapira, he suffered from depression and problems of sexual identity. He was murdered in Jaffa on May 1921 during the Jaffa riots.
Yosef Haim Brenner (1881–1921) left behind an impressive and influential body of work, including short stories...
This collection of Brenner's work includes the novella Out of the Depths, as well as One...
Showing 1 - 2 of 2 result