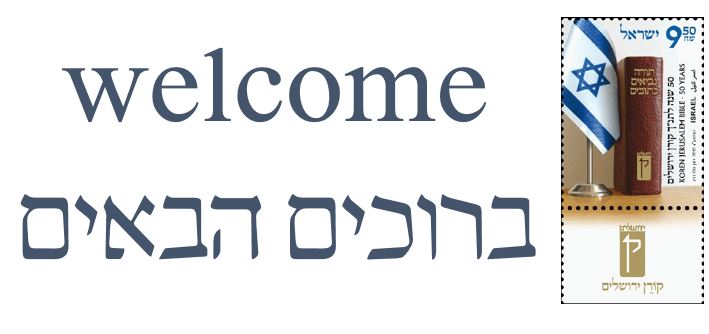 Welcome to the new Koren blog
We're excited to use this platform to give the Koren community a fresh, new perspective on who we are and what we're publishing. The blog will serve as a place to focus on fascinating books that we're releasing and showcase a behind-the-scenes look at our company. Here you'll find interviews with our authors and production and design team, newsworthy excerpts from our publications, sneak peeks at forthcoming titles, and much more. Ever since our company was founded back in 1962 with the publication of the first Koren Tanakh, we have been publishing elegant, quality Jewish books in the heart of Jerusalem. Since that time, Koren Publishers has expanded significantly, and now oversees five imprints with partnerships with some of the most brilliant minds and most advanced educational institutions in the Jewish world.
An official Israeli stamp celebrates the 50th anniversary of the Koren Tanakh.
Housing a colorful mixture of authors, editors, designers, typesetters, Torah scholars, researchers, marketers and salespeople, we are dedicated to the mission of bringing quality Jewish literature to the world. We hope that this new blog will allow readers a window into the fascinating world of quality Jewish publishing. For editors and bloggers: please feel free to share our news with your readers!