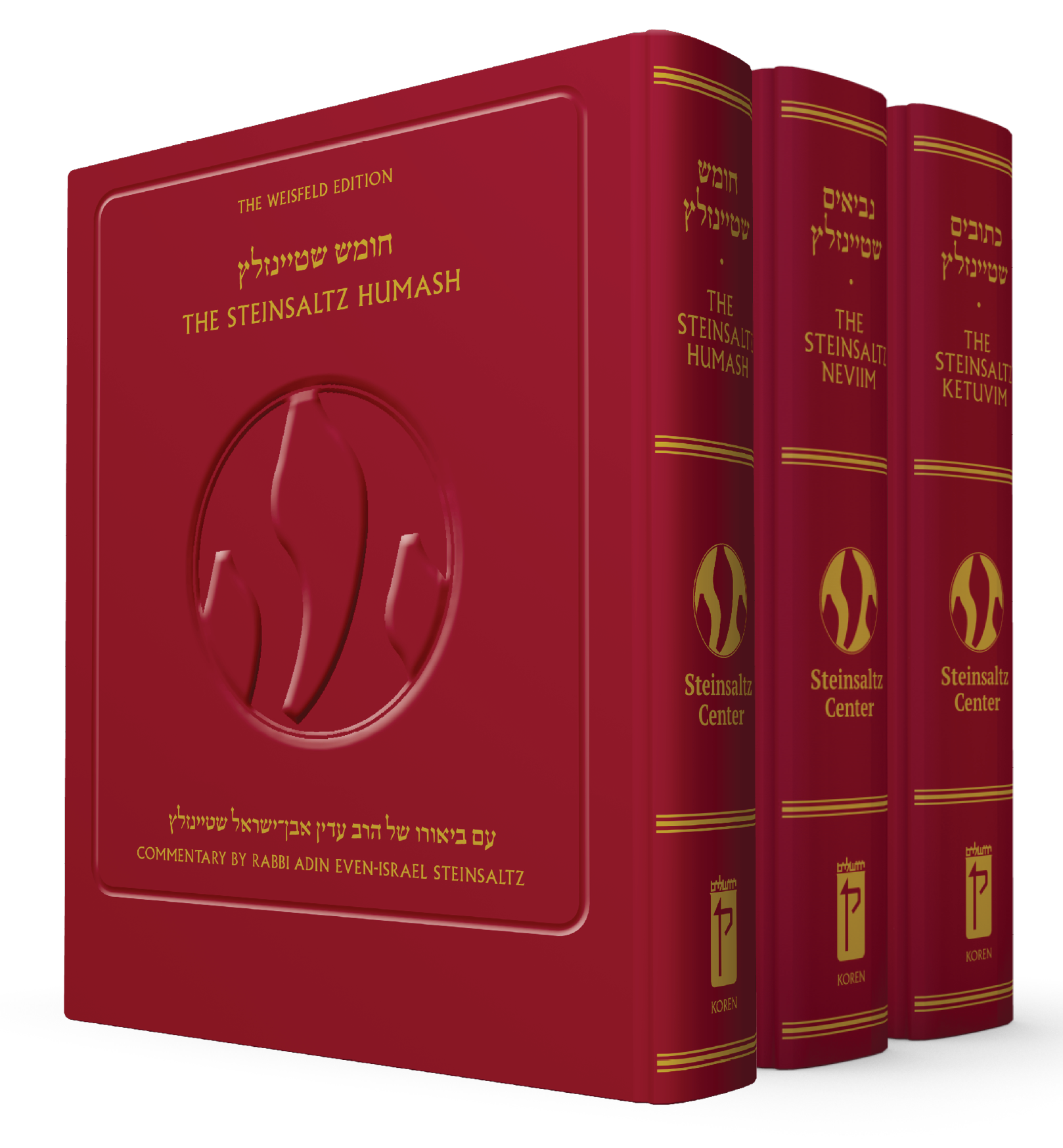 The Koren Steinsaltz Tanakh Collection
This week's product spotlight is on The Koren Steinsaltz Tanakh Collection. Available in both Hebrew (1
7 volume The Tanakh HaMevoar collection
) and in English (the 3 volume edition):
The Steinsaltz Hebrew/English Tanakh Set:
The Steinsaltz Humash
is the long-awaited English version of
Rabbi Adin Even-Israel Steinsaltz
's pioneering translation and commentary on the Torah. Like his monumental translation and commentary of the entire Talmud, the new Steinsaltz Humash includes a treasure trove of information to make the text clear, fascinating, and relevant to users of all backgrounds. "Above all, we see it as our mission to ensure the accessibility of Jewish knowledge through programming and educational tools that encourage in-depth study and creative engagement with the texts. For decades, the most powerful tool in our pedagogical toolbox has been the publication of books that provide future scholars and lay people alike with fluid explanations of core Jewish sources," said Meni Even-Israel, Executive Director of the Steinsaltz Center and Rabbi Steinsaltz's eldest son. Here,
Rabbi Steinsaltz
's commentary seeks to connect the reader directly to the
peshat,
the plain reading of the text. He includes references to many commentaries, while he aims to remove any 'barriers' to the text, connecting us directly to the 'voice of the Torah'.
This brand-new volume features several innovative elements including:
Hebrew verses in clear Koren font, with vowels and punctuation
Accessible English translation that reflects Rabbi Steinsaltz's understanding of the text
Parshiyot divided thematically with introductory explanations
Color photos that identify biblical objects and illustrate complicated concepts
Notes and photos of modern archaeological and scientific findings
Maps, illustrations, and charts to clarify locations and concepts
Supplemental background materials, cross-references to the Torah
The
Humash
,
Five Megillot
,
Neviim
and
Ketuvim
are ALL available as individual volumes.
The Tanakh series with commentary by Rabbi Adin Even-Israel Steinsaltz has already made waves in Jewish communities around the world, from Bar/Bat-Mitzvah children who enjoy learning from its clear layout, to Israel's President Reuven Rivlin! The new series is divided into 17 volumes with an accessible and clear annotation of content.
All books contain the most up-to-date historical information of places, peoples, plants and details mentioned in the verses alongside rare illustrations. For those seeking to deepen and expand their knowledge, Rabbi Steinsaltz brings background materials, biblical parallelism, alternative interpretations, Midrash and Jewish thought as well as external documents and linguistic notes.
Verses with vowels and punctuation according to the Koren Tanakh, known for its textual accuracy.
Rashi commentary in newly digitzed font, punctuated for easier comprehension.
Brief introductions to each section.
Notes and explanations divided into conceptual units.
Real life pictures illustrate complex concepts.
Scientific and sociological notes about places, nationalities, flora and fauna that are mentioned in the biblical text.
Verse-by-verse elucidations written in clear, simple language to make the text as accessible as possible.
Supplemental background materials, cross-references found elsewhere in Tanakh, alternative interpretations, enriching ideas from Midrash and Jewish philosphers, linguistic notes, and more.
Rabbi Steinsaltz begins with the words: "The purpose of this commentary is not to present revolutionary innovations, but rather to serve as a transparent interpretation, whose aim is to be so imperceptible that the reader will not notice the existence of a barrier between himself and the Scriptures. Let the Torah speak for itself, the prophets' prophesy their prophecy, and the sages their wisdom. "