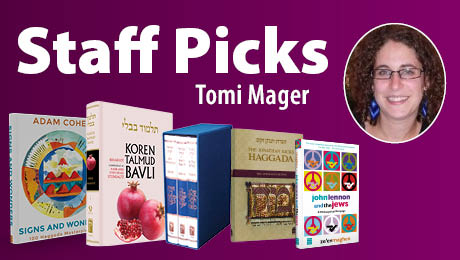 The Koren Publishers' Newsletteris excited to announce a new monthly feature; Staff Picks. Every month a different member of our team will tell us about some of their favorite titles or give their recommendations for books that you may have missed, but certainly deserve your attention. Meet the people who make the books you love, and find out which are their favorites. Our second listcomes from Tomi Mager:
1)
The Noé Edition Koren Talmud Bavli
It has been an absolute privilege to help bring the Noé Edition Koren Talmud Bavli to the world. The Koren Talmud Bavli is accessible to people who never had the self-confidence to learn a page of Gemara before and, for the first time, makes learning Talmud an attainable goal to all while also offering new insight and deeper understanding of the simple meaning of the page to even the most experienced learner. 2)
Koren Classic Mahzor
The Koren Classic Mahzor is, hands down, the most user-friendly mahzor I have ever held. It's cleaner and simpler compared to any other mahzor and the unique Koren layout, makes praying on High Holidays and festivals so much more meaningful. 3)
The Jonathan Sacks Haggada
The Sacks Haggada was one of the first projects I worked on when I came to work at Koren six years ago as the assistant editor of Maggid Books and I find myself coming back to it, reading and rereading the essays each year. They help draw a picture of, and give meaning to, Pesah and the seder. 4)
John Lennon and the Jews
This is one of our most underrated titles! John Lennon and the Jews is off-the-wall hilarious and totally bonkers but Ze'ev Maghen is so spot on in the point that he makes when answering the question of "Why be Jewish?". When I was editing the manuscript I spent the whole time laughing out loud, it's a real must read! 5)
Signs and Wonders
This is my second pick about Pesah but its never too early to start getting ready.I have a
thing for illuminated manuscripts and since the Haggada is the most illustrated Jewish text, I love watching the artwork evolve through the ages and reflect the world around it.Each illustration lends a different understanding to the text and some insight into how the Jews were viewing the world through the lens of Pesah and the seder.