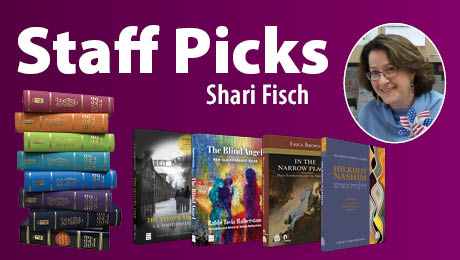 Shari Fisch, has worked in publishing for over 15 years and loves the perks of her job such as living an 8 minute walk from the office – passing two bakeries – and getting as many books as she wants. Though based in Israel, Shari is responsible for vendor and customer support for the international sales department at
Koren Publishers Jerusalem
. Shari and her 2 teenage children love to take day trips around Israel when not watching Star Trek reruns or baking brownies.
This title was originally not on my short list to read. I loved that the book was translated by Rabbi Halberstam's son Joshua - such a beautiful way for a son to honor and show love for his father! - but Chassidic Tales? I assumed the book would be simply 'schmaltz'. But then my mother read it for her book club and raved about it. How right she was. The stories are in turn funny, sad, wry, and thoughtful – and given that they are stand-alone short stories, I was able to enjoy them at my own pace over a few weeks, often while eating breakfast.
As a single parent, I set the tone for religious observance in my home and serve as a dugma ishit (example) for both my son and daughter. But as a woman, are there limits on what I am expected to do within Orthodox Judaism? This new reference series created in cooperation with JOFA will be well thumbed in my home! I have already checked the issue of women saying Kaddish (for my father z'l) in this book and am looking forward to lining my shelves with future volumes.
The Yellow Star is an incredibly moving memoir of what Simche Bunim Unsdorfer lived through during the Holocaust. I read it a number of years ago and still remember the power of his account, the abject misery and horror he endured. In our day and age, with the increase in antisemitism on the right and left, I think that The Yellow Star should be required reading for all people.
Though I do read my Bible on occasion, the real draw of this edition is the bragging
rights I gave my kids. The classic Koren Tanakh with clear and accurate text, beautiful font, and durable binding, now comes in funky colors and has thumb tabs. With each new color, my teens are the envy of their schools.
In the Narrow Places, with an essay for each day of the 3 Weeks leading to Tisha B'Av, keeps me focused on what the fast days – and the days in between – mean. I am a creature of habit and it is so easy to simply put one foot in front of the other in getting through the daily grind. But with a short essay per day, I am able to add a little bit of spirituality and self-reflection to my usual routine. This is also one of the only books, along with
Brown's book Return
, that I reread every year. The musar (ethical instruction) provided never gets old, and we can all use some self-help.