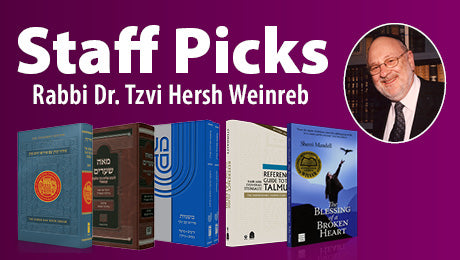 Staff Picks-Rabbi Dr. Tzvi Hersh Weinreb
Every month a different member of our team tells us about some of their favorite titles or give recommendations for books that you may have missed, but certainly deserve your attention. Meet the people who make the books you love, and find out which are their favorites. This month's selections have been provided by
Rabbi Dr. Tzvi Hersh Weinreb.
Rabbi Weinreb is the editor-in-chief of the
Noé Edition Koren Talmud Bavli
, Executive Vice President Emeritus of the OU, longtime spiritual leader of Congregation Shomrei Emunah in Baltimore and author of several wonderful books including
The Person in the Parasha
from
Maggid Books
and the outstanding commentary featured in the
Rohr Family Edition Koren Tehillim.
The Koren Rav Kook Siddur is an excellent introduction to Rav Kook's thought and an inspiration for personal prayer. It incorporates all the merits of Rabbi Sacks' masterful translation of the prayer services but builds new ideas and opens new worlds of understanding of the siddur.
Rabbi Eliyahu Dordek has created an easy to study edition of this core work. Using an innovative layout, varying fonts and formatting, as well as the brief and easy to read commentary of the Kav v'Naki, the
Mishna Sdura
series is an essential for every Jewish library.
by
Rabbi Adin Even Israel Steinsaltz
Reference Guide to the Talmud is a must for beginners, and a treasure trove of information for advanced students. The
Reference Guide
clearly and concisely explains the Talmud's fundamental structure, concepts, terminology, assumptions, and inner logic; provides essential historical and biographical information; and includes appendixes, a key to abbreviations, and a comprehensive index.
Unlike many publications from the
Ofeq Institute
which are designed for scholars, this work is written for a wider audience in simpler Hebrew. It is of general human interest:
kibud av v'em
(honoring parents), child rearing, and principles of education. Even if Hebrew is usually intimidating to you, this book is worth taking the time to sit and learn.
by
Sherri Mandell
The Blessing of a Broken Heart is a mother's reaction to her son's violent death at the hands of sadistic murderers. She does not blunt the horror and unspeakable grief of her tragedy, yet is able to leave the reader with a sense of consolation and with admiration for her courage and resilience.