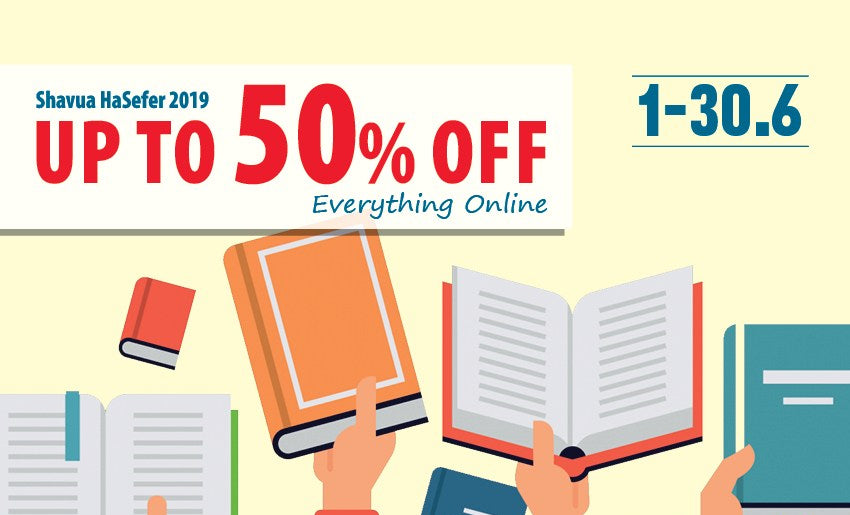 Shavua HaSefer 2019-A Buyer's Guide
Here in Israel it's
Shavua HaSefer HaIvri
(Hebrew Book Week) from June 12-June 22 with sales and events across the country! For book lovers in Israel this can be both an exciting and a daunting time.
So much to choose from! Where do I even begin?
Feel free to stop by Tachana Rishona in Jerusalem this week to speak to Koren Publishers representatives in person. Additionally we have compiled a list of some books you might want to check out before going out on your sefer shopping spree. You're welcome to use this as a guide, but don't forget to delve into our older, classic titles, too!
Between 1952 and 1976, a young, erudite synagogue rabbi named
Norman Lamm
captivated his congregants with dynamic pulpit sermons. He challenged his audiences to filter out the noise and distractions of modern American life by listening to the divine voice, delving into the wisdom of the Torah. Derashot LeDorot is a selection of essays based on these stirring sermons, culled from the files of the Lamm Archives of Yeshiva University. Each essay features reflections on the weekly parasha, brilliantly illustrating Rabbi Lamm's masterful pedagogy, deep intellectual rigor, and staunch commitment to the word of God. Today, Rabbi Lamm's words remain as inspiring as they were when first delivered, passing on his wisdom to the next generations.
The bestselling author ofA Tzaddik in Our Time: The Life of Rabbi Aryeh Levinnow welcomes us into the world of two legendary Hasidic masters: Reb Elimelekh and Reb Zusha. With charm and a deep respect for the values by which they lived, Simcha Raz opens the window into the lives of these two brothers, their profound teachings, and their simple, yet deep dedication to living lives of holiness.
Translated by Dov Peretz Elkins and with a foreword by one of the most prolific storytellers of our generation, Rabbi Hanoch Teller,The Holy Brothers: Reb Elimelekh of Lizhensk and Reb Zusha of Anipoliis the first time the tales of these two personalities are published in English.
We tend to look at the history of Jewish life in a linear way, ignoring or dismissing the influences and the stimulators from beyond the comfort zone of traditional Judaism. But we must ask ourselves: What were the outside factors that influenced what happened on the inside? How did the Shabbetai Tzvi and Emden-Eybeschutz controversies affect how we live our lives as Jews in the twenty-first century? How did the Get of Cleves controversy influence Jewish law going forward, so that rulings arrived at today are determined by this seemingly marginal episode?
The uniting theme of Rabbi Pini Dunner'sMavericks, Mystics & False Messiahsis the very individual personalities of these marginal characters and the impact they had during the time in which they lived. All the mavericks whose lives are explored in this book somehow represent – in their individuality and their unique stories – aspects of the broader narrative of their eras. What they prove, in all their fascinating oddity, is how aspects of Jewish history which occur outside of the spotlight have a residual effect on what is happening in today's world.
Introducing the new, colorful, compactShalem Siddur! The incredible Lobel Edition Koren Shalem Siddur with translation and commentary by
Rabbi Sacks
is now available in compact size and, for the first time, THUMB-TABS for quick and easy navigation through the siddur! Classic hardcover, the beautifulEmanuel Judaicadecorative cover, colorful flex-covers, and a stunning leather-bound edition, there's something for everyone!
Not just a book for Passover! This is the first book every written about Haroset, the traditional Passover food. In a captivating historical journey, food historian
Dr. Susan Weingarten
traces the development of this ancient dish through a tapestry of social, religious and cultural contexts. By examining a wealth of written sources, oral histories, recipes and customs from around the world, the author provides a fascinating perspective on the diversity of Jewish tradition and experience.
The process of repentance,teshuva, presents each of us with both challenges and opportunities. While self-scrutiny, confession, and commitment to change are among the most difficult human undertakings, the very process of renewing and reconnecting – to ourselves and to God – is a gift that can fundamentally repair us, our communities, and society at large.
In his annual discourses on repentance, Rabbi Aharon Lichtensteinzt"lset out to make the elusive path of teshuva more navigable. Return and Renewal collects twelve of these public lectures, adapted for print by Michael S. Berger and Reuven Ziegler. In these essays, Rabbi Lichtenstein marshals a broad array of Jewish sources, along with classics of the Western tradition and his own sensitivity to the human condition, to examine the psychological, emotional, and spiritual elements of sin and repentance. By exploring the habits and impulses that may prevent enduring change or abet it, Return and Renewal provides a high-resolution map of our spiritual lives as we embark on our journeys of religious growth.
In Creation: The Story of Beginnings,
Jonathan Grossman
unveils the hidden meaning of the first eleven chapters of Genesis. His insightful and creative literary analysis interweaves theology, psychology, and philosophy, extracting a fresh and refreshing understanding of the biblical text. Drawing upon the words of the sages and the great medieval commentators, and employing contemporary literary tools, Grossman journeys back to the beginning of creation to show how human initiative goes hand in hand with both sin and progress. This volume is part of the Maggid Tanakh Companion series and is published in partnership with YU Press.
This illustrated Mishnah series for children contains five volumes (as of today): Tractate Succah, Tractate Megillah, Tractate Rosh Hashanah, Tractate Yoma and Tractate Pesachim.
From Beit Mishanot, it's the complete Mishnah text accompanied by a new and concise explanation as well as illustrations creating an integrative, experiential learning process. So far the series has received high praise from educators, parents and children.
This volume collects ten of
Rabbi Soloveitchik's
studies on prayer, based on edited transcripts of public lectures and previously unpublished manuscripts, as well as essays newly translated from Hebrew and Yiddish. These studies add a new dimension to the Rav's previously published writings on tefilla, focusing not only on its general aspects but on individual prayers and blessings and their particular details. ***Come visit us at the First Station in Jerusalem! *** Chag Sefer Sameach!