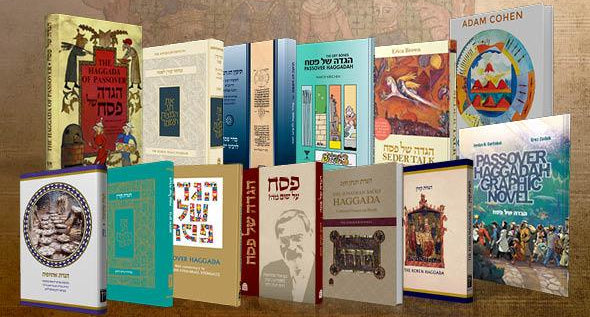 Passover Haggadot at Koren Publishers
Passover 5779 (2019) is right around the corner! Looking to add a new edition to your Haggadot collection? Replace your retired Haggadot? Buying your first Haggadah and not sure where to start? Read about what is available here at Koren Publishers Jerusalem! Let us help you get ready for Pesah with 25% OFF Haggadot until Sunday April 14, 2019.
ThePassoverHaggadah Graphic Novela collaboration between acclaimedBatmancomics creator and Jewish cartoonist Jordan B. "Gorf" Gorfinkel, Koren Publishers, and Israeli artist Erez Zadok. Using contemporary, vibrant illustrations,The Passover Haggadah Graphic Novelintegrates a brand-new, modern translation into sophisticated and fun sequential art that brings the epic Exodus story to life. The result of extensive historical and linguistic research, every gorgeous panel imbues the classic narrative with renewed relevance and excitement.
The graphic novel pages are presented alongside the unabridged, traditional Seder service text, in Hebrew and transliteration, and accompanied by "how to" instructional cartoons depicting all of the rituals, as celebrated every year for the last 4000 years in Jewish homes around the world. This historic publication will appeal to family members and guests of multiple generations and diverse backgrounds. There's no more universal medium for telling heroic stories, one that bridges all cultures, faiths and languages, than the sequential art form of the graphic novel—itself a Jewish innovation.
An artistic and educational milestone, thePassover Haggadah Graphic Novelwill inspire and engage everyone on Passover night for many years to come.
The best-selling author of several books on Judaism now shares his insights into Seder night with the world.Redemption, Then and Nowfeatures the complete Haggada text alongside Rabbi Blech's fascinating commentary and essays that explore the themes of the Passover holiday.
Like many Haggadot under the Koren publishing house, this edition is double-sided: the Hebrew side comprises the Koren Haggada and translation, accompanied by the author's commentary; the English side includes 23 short essays on the themes of Pesah, the Seder, and its various rituals. The commentary and essays are noted for their easy, accessible style, and the author's great love for gematria and word play, featured throughout.
Redemption, Then and Now: Pesah Haggadais published byMenorah Books,an imprint of Koren Publishers Jerusalem. Menorah isyour Koren destination for quality fiction and non-fiction that warm the Jewish heart, appeal to the soul, and inspire thoughtful reflection in areas of Jewish spirituality and religious experience, for both adults and young readers.
Make the Passover seder fun and entertaining with the award-winning Dry Bones comic strip!
Published inThe Jerusalem Postfor over four decades and syndicated in newspapers around the world, illustrator Yaakov Kirschen now fuses his colorful, witty comics with the Haggadah. This edition features an engaging, user-friendly layout, contemporary design, and modern English translation – a fun addition to the seder for the entire family.
For award-winning author and educator Dr. Erica Brown, one should approach the Passover Seder with imagination as well as intellect. The Seder's grab-bag of esoteric rabbinic texts, prayers, symbolic foods, and strange farm-animal songs opens the door for commentary and conversation, inviting us to make the exodus story truly our own.
Seder Talk: The Conversational Haggadafeatures two books in one: an erudite, sensitive commentary on the Haggada text with conversation trigger points, and eight short essays for each day of the holiday. In her signature educational style, Dr. Brown includes art and poetry to engage the reader in the sensory emotions of Seder night in addition to thought-provoking questions and life-homework exercises for greater mindfulness, intention, and inner freedom.Seder Talkintroduces ideas from the Vilna Gaon, Stephen King, Rav Kook, the Hassidic Sfat Emet, the Harvard Business Review, and more, creating a springboard for fascinating conversation for all ages.
Published in cooperation with the OU Press.
Bonus Passover Book....New Release:
This is the first book every written about Haroset, the traditional Passover food. In a captivating historical journey, food historian Dr. Susan Weingarten traces the development of this ancient dish through a tapestry of social, religious and cultural contexts. By examining a wealth of written sources, oral histories, recipes and customs from around the world, the author provides a fascinating perspective on the diversity of Jewish tradition and experience.
Don't forget to check out our
Pinterest
page!