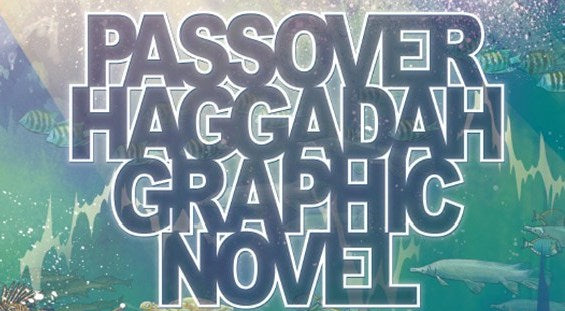 Passover Haggadah Graphic Novel-What are People Saying?
Below are excerpts from
Steve Lipman's article in the New York Jewish Week.
"On Passover, which commemorates an ancient story of liberation, a popular cartoonist has freed the narrative in a thoroughly modern way."
"In a sign of the visual and attention-challenged times, Jordan Gorfinkel, whose "Everything's Relative" strip appears in this publication, has combined the epic Passover story and indelible images into a Haggadah that seems tailor-made for millennials,"
"The Exodus story, Gorfinkel told The Jewish Week, has "everything you want: larger-than-life characters and conflicts, sweeping settings, mammoth action sequences, memorable personal moments." And, of course, "a happy ending … especially if you don't mind sand in your shoes," he quipped."
"As the title suggests, the 170-page book, three years in the making, is two books in one. It contains the traditional Hebrew text of the Haggadah (transliterated into English letters), in easy-to-read fonts, and a modern English-language translation by David Olivestone, former director of communications at the Orthodox Union, as well as "how-to" instructional cartons that lead the reader through each step of the seder. And it is also an exquisite full-color graphic novel drawn by Israeli artist Erez Zadok, a Bezalel Academy of Art graduate, that features the unnamed goat family going through each step of the seder. The illustrations, which incorporate modern cityscapes and mythic biblical scenes, carry the story forward as it moves from the exodus from Egypt to Jewish life and history through the ages."
"'The story boards are really clever and engaging,' said Daniel Levine, thelongtime owner of J. Levine Books & Judaica in midtown, who added that he has 'never seen a Haggadah like this'— one rendered as a full-length graphic novel. 'In my 40 years
this is the most captivating and creative one I have seen.'"
"Gorfinkel's Haggadah is the new face of the Passover text." "A Haggadah in graphic novel form is a perfect adaptation for the millennial generation that was raised in an atmosphere of individualized iTunes playlists, said Rabbi Elly Krimsky, program director of NJOP (formerly the National Jewish Outreach Program). Today, he said, people can find Haggadahs that reflects their way of thinking, that speak their language. 'Instead of just reading a text,' Rabbi Krimsky said, 'they want to see how the text provides meaning for them.'"

High praise from such an esteemed journalist! Still not convinced? Check out the following excerpts from

Rochel Sylvestsky's article in Artuz Sheva

:
"They (the younger generation) are a visual generation and are more interested in seeing than hearing. In answer to that, Koren Publishers Jerusalem Ltd., hasgiven us the world's first
Passover Haggadah Graphic Novel
, guaranteed to have them glued to the story – if you can agree to let it out of your own hands, that is."
"The reader-friendly English is the result of intensive linguistic research and enhances the dramatic sequential graphic progress of the novel, with visual art thatmanages to be dramatic when necessary, and sophisticated and light-hearted at the same time."
"The 'how-to' instructional cartoons for every step of the Seder and its preparation are just perfect, interesting, instructive and fun to read. The dramatic parts are just that and will keep young participants involved while enriching their identification with the Exodus of their forefathers from Egypt and later Jewish history – just as the Talmud instructs us to do."