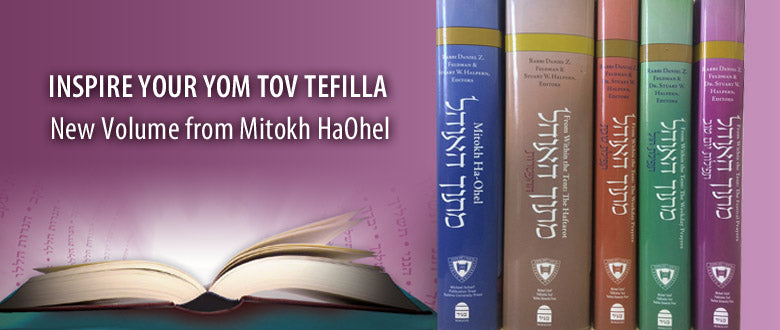 New Volume in Mitokh Ha-Ohel Series Will Enhance Your Yom Tov Tefilla
In Judaism, lengthy prayer services on the Yom Tovim can inspire reactions that range from uplifted to frustrated. The text, the additional services, the Torah and Haftarah readings come to bring us closer to the themes and significance of these special days, yet often seem foreign to many of us. To address this challenge, a wide range of scholars and rabbis from Yeshiva University have come together to present their writings on these prayers in the latest volume in the Mitokh Ha-Ohel series,
Mitokh Ha-Ohel: Essays on the Festival Prayers
. The collection of over thirty essays will englighten, inspire and clarify the Yom Tov prayers for readers of all ages.
Like previous volumes of
Mitokh Ha-Ohel
, contributors to the latest volume come from every division of the university and bring a range of approaches to the text including textual analysis, homiletic exposition, halakhic (Jewish law) analysis and academic exploration, but share the common goals of honoring, exploring and elucidating the text. "The cycle of Jewish festivals is rich with the profound expression of the foundations of Jewish life, law, and lore," said Rabbi Daniel Z. Feldman, a rosh yeshiva at YU-affiliated
Rabbi Isaac Elchanan Theological Seminary
, who co-edited the book together with Dr. Stuart W. Halpern, chief of staff at YU. "Rarely are we able to direct enough attention so that we gain even a fraction of what we can from the experience. The broad and diverse faculty of Yeshiva University is uniquely qualified to reveal, highlight, and illuminate the gems embedded within the Jewish calendar." The
Mitokh Ha-Ohel
series is co-published by Maggid Books, a division of Koren Publishers Jerusalem, and Yeshiva University. Maggid Books offer new approaches to Jewish texts and themes from the world's leading rabbis, scholars and philosophers. Other Maggid titles from the Maggid - Yeshiva University partnership include:
Books of the People: Revisiting Classic Works of Jewish Thought; Derashot LeDorot: A Commentary for the Ages,
a five-volume parasha series by Rabbi Norman Lamm;
The Philosophical Quest: Of Philosophy, Ethics, Law and Halakha
by Rabbi J. David Bleich;
False Facts and True Rumors: Lashon Hara in Contemporary Culture
by Rabbi Daniel Z. Feldman.