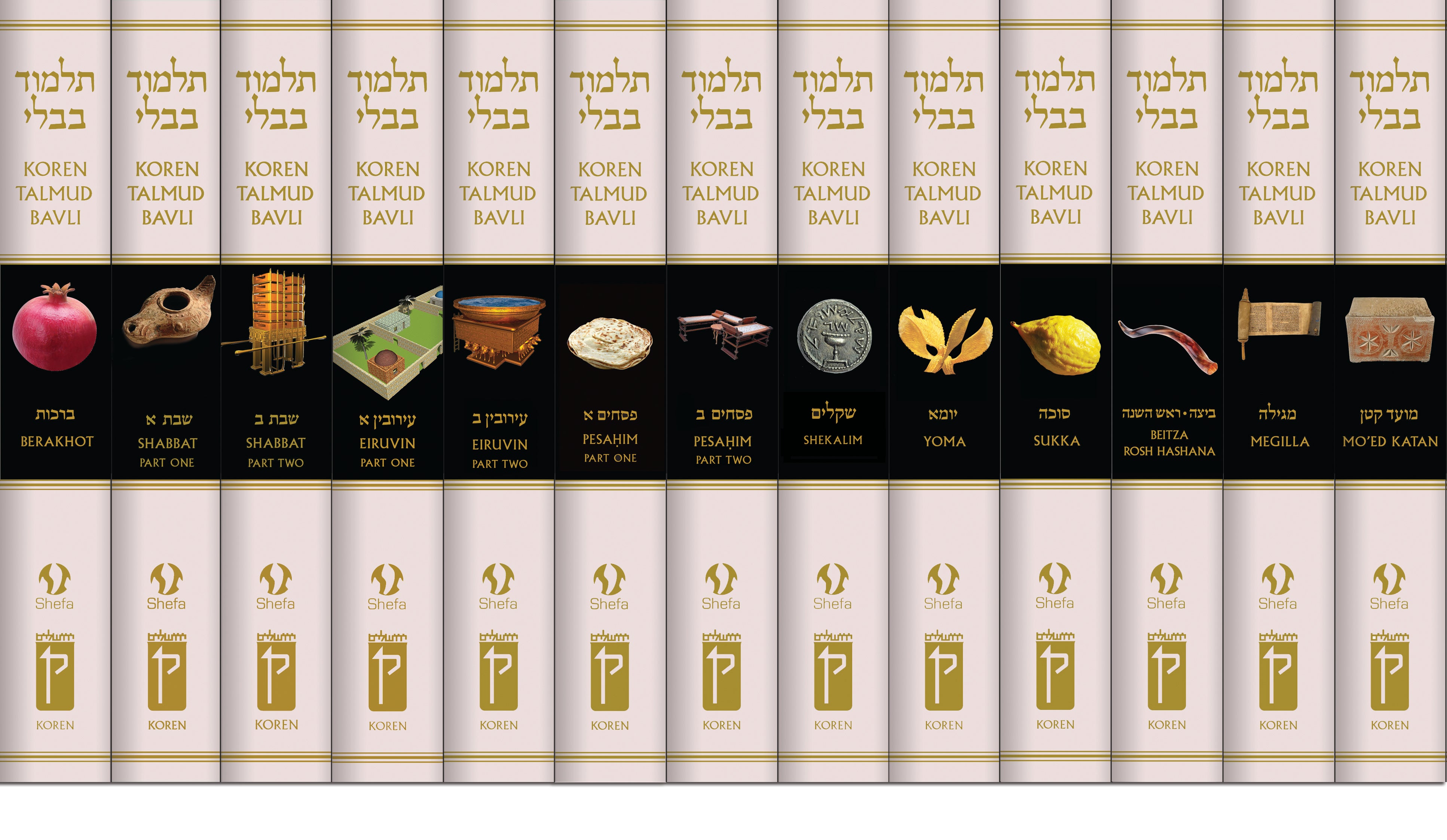 Learning the Koren Talmud Bavli with Andrew
Introducing a new feature to the Koren blog; Learning the
The Noé Edition Koren Talmud Bavli
with YOU! Each post in this installment will feature
Noé Edition Koren Talmud Bavli
users and tell a little of their story. Interested in being featured? Please send us a message with a short introduction! This installment we will meet Andrew Hamilton of New York City:
Koren Publishers: Can you tell us a little about yourself?
Andrew:
I'm a native New Yorker, working in the finance industry in Manhattan. I began studying Judaism in depth about 10 years ago when I first visited the Aish Center on the Upper West Side. I remember the first class I attended very well: when there are challenges that arise to a community, whether political or physical, and you've exhausted all that you can do directly to help, there is always more you can do by searching your own actions and dedicating yourself to being a better person. It's a good idea that has its foundation in Tanakh. Since then I've been learning about new ideas on a pretty regular basis.
Koren Publishers: How long have you been learning Gemara?
Andrew:
I had been exposed to it for a while of course, but I started to focus on it after the last Siyum HaShas in August 2012. I attended the Siyum at MetLife Stadium in New Jersey to congratulate those who were wrapping up the very last page of their 7 year journey and the next day I started learning Talmud regularly.
Koren Publishers: Do you have a chavruta or do you learn by yourself?
Andrew:
I typically learn on my own. At the end of the week I discuss what I learned with a chavruta. We spend most of our time together discussing topics in the text that I would not have expected at the beginning of the week.
Koren Publishers: Do you use the The Noé Edition Koren Talmud? If so, how has it been helpful to you?
Andrew:
The day after the Siyum HaShas, I opened the
Koren Talmud
to the first page and I continue to receive and read new books as they are released. The English translation is very useful, especially because of the additional context in each paragraph. I always know who is speaking, what question is being asked, what halakha is being debated, and so forth. It's not just a translation—it's much, much more. The additional sections surrounding the text of halakha, notes, and background are also helpful and bring up clarifications that I wouldn't have even considered. I'm also a heavy user of the PDFs that are available with the subscription. As long as I'm near a computer, the entire set of books to date are available to me.
Koren Publishers: What do you enjoy about learning Talmud?
Andrew:
I enjoy reading about the challenges that arise when putting the Torah into practice. The most simply phrased commandments become incredibly detailed, especially when different rules would ostensibly conflict with one another. Many years ago I wondered whether it would be sufficient to learn a compilation of the rulings in the
Talmud
. While it is certainly important to know the conclusions and how they translate into halakha, I've found the debate itself to be the greatest strength of the Talmud and the greatest impact on my life. I'm also fascinated every time I come across a concept in Talmud that relates to U.S. law and public policy. While the rulings themselves may go in the opposite direction, it's nice to see that so many legal and policy debates of today are directly addressed in the Talmud.
Koren Publishers: We love your Daf Yomi Twitter account @tweetsyomi. How long have you been posting about Daf Yomi? How did this all come about?
Andrew:
Thank you very much for the compliment. I began the account in 2014, about two years after I began studying daf yomi. I had been taking brief notes on my daily studies and the 140 character limit on
Twitter
(since raised to 280 characters) approximated the length of these notes. The idea just came to mind one day. I created an account to start sharing what I had learned and didn't know where it would lead. It's certainly become a way to enhance my learning because I now have an obligation to stay slightly ahead of the daf yomi schedule and I enjoy having the opportunity to share the Talmud with others. It takes more time but it's also been rewarding to take a step back to pause and decide what to write. Of course, one tweet can never convey the depth of an entire page of
Talmud
and some days can be challenging. With so many new ideas on each page and only a 280 character limit, it's a tough decision what to write and most often what to cut from a tweet. I aim to share one or two interesting points that would entice a reader to learn more, sometimes by sharing only the question but not the answer that appears in the text. Inspired to find out the answer? There's a great English translation available!