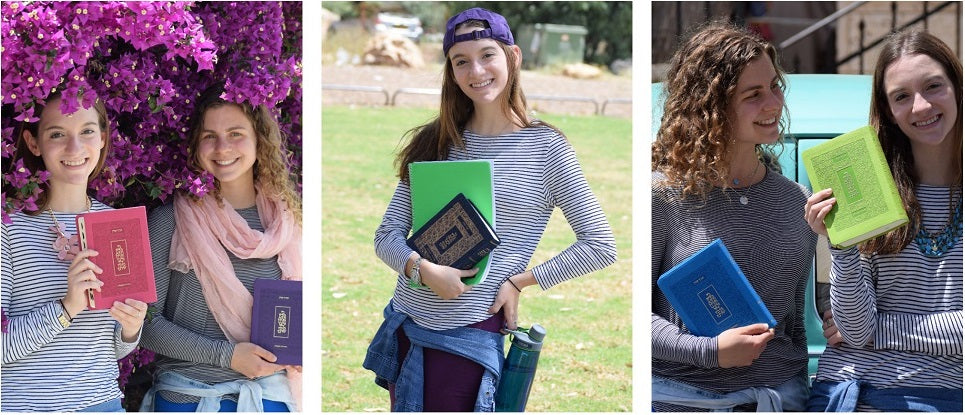 Guest Blog: The Director Responds to The Koren Ma'alot Tanakh Facebook Post
Guest Blog: The Director Responds
The recent
Facebook post for the Koren Ma'alot Tanakh
has gotten a lot of attention on social media. As the director of the shoot, I'd like to respond to the comments, both positive and critical, in order to shed a light to who I am and why I chose to portray Tanakh learning in this fashion. Perhaps once you as the viewer know more about me and my intentions for this ad, you'll come to understand the goals of this campaign. I am the proud graduate of a co-ed Yeshiva high school and a current-student at a seminary in Israel. Since September I've strived to push myself academically, enrolling in advanced Tanakh and Gemara classes. What prompted me to do this shoot is the belief that showing women engaged in Torah study is
crucial
for young women and girls like myself to see that we are a part of the learning community. I wanted young men and women to see this Tanakh as part of their everyday lives. This Tanakh is portable, so I thought to photograph two girls on the go, studying and celebrating our most cherished book. These Tanakhs are beautiful. The natural scenery enhances the colors and design of the books. A Tanakh is certainly not on par with a purse or a hat--rather, like anything important, it is meant to be taken everywhere. Evidently, my school's Tanakh is a Ma'alot one, and I use it with pride in every class.
The original post that sparked ongoing threads on social media. Caption reads: "Wherever you go, take the Koren Tanakh Maalot with you – compact, durable, and stylish"
I think the conversation that this campaign sparked is a worthwhile one. That being said, I see nothing wrong with showing our holy texts in diverse contexts, nor do I see anything problematic with young women and girls being excited about carrying their Tanakhs. The reason I think some critiques were misguided is that, while I was receiving comments on how this project is demeaning towards women and minimizing their studies, I was preoccupied in my Talmud shiur. I was busy thinking of how I was going to photograph the Gemara, and photograph learning in Midrasha. As an artist and as a student, I think this campaign should encourage
all
of us to enhance and increase our learning, especially women and girls who do not always have these opportunities available. I want to see women's Torah study encouraged, no matter what sefer they want to use. Finally, I'd like to thank you to Koren Publishers for this incredible opportunity and I'm glad the post was able to promote discussion and discourse.