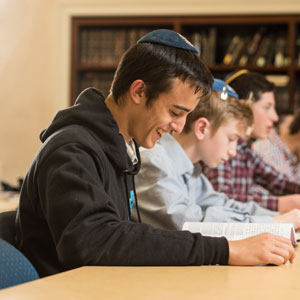 Koren Publishers Jerusalem's Proud Partnership with YU Bronka Weintraub High School Bekiut Program
*The 5779 Contest Winners are announced at the bottom of this post* Every year
Yeshiva University
hosts a yearly
Gemara
learning competition called the
Bronka Weintraub High School Bekiut Program
which is aimed at high school students throughout North America. In an incredible testament to the state of Torah learning amongst our youth, this year more than
530 students participated
. These students represent
more than 30 schools
across North America.
The Bronka Weintraub High School Bekiut
program began in 2008. It provides opportunities for high school boys and girls to participate in separate learning programs which cover significant amount of gemara most often outside of class time. Students are rewarded for their performance and many of the previous winners have developed into budding Torah scholars. The program is named for
Yeshiva University
benefactor Bronka Weintraub z"l, whose estate determined that the best way to perpetuate her legacy was to enable high school boys and girls to develop their Torah skills and knowledge.
Over the course of the year,
1,801 tests were administered
, each on multiple pages ofGemara. Each of these tests demanded months of preparation and review on the part of every participating student. Additionally, this year Koren Publishers Jerusalem proudly sponsored a side competition in which a raffle was conducted amongst the highest scoring students with the winner receiving the full set of the
The Noé Edition Koren Talmud Bavli
!
Koren Talmud Bavli with commentary by Rabbi Adin Even-Israel Steinsaltz
The Bekiut contest has a total of four separate programs: A "Daf-a-Week" competition for boys as well as a "Daf-a-Week" competition for girls and an "Amud-a-Week" program with a separate competitions for boys and for girls. Students learn with a class, a tutor, a friend, videos that are provided
online
and then take five challenging tests during the year which allow them to display their level of mastery of the material. If a student does well on a test he/she receives money towards seforim from
Eichler's Judaica
. They can earn up to 180 dollars over the year. The top three students in every program receive grand prizes of up to $3,000 each. The ultimate goal of the program is to provide an organized context for motivated high school students to take their Torah learning to the next level andto inspire a love and motivation for learning amongst high school students. With the cooperation of the over 30 distinguished partnering schools, the YU Bronka Weintraub Bekiut Program is successfully reaching so many students and providing incentive – tangible sense of accomplishment – for all students who display a level of commitment to their
limud
. What set up apart this year's competition wasn't just the record number of participants but also the introduction of a raffle for the highest scoring students at the end of the year. On the final exam of the year, students (both boys and girls) that scored an 85 or higher on the Amud exam or 90 or higher on the Daf exam were automatically entered to win a full set of the
The Noé Edition Koren Talmud Bavli
. After the final tests were administered a winner was chosen and will be receiving their incredible gift any day now. It is with immense pride that we gift this set of Gemara to a most deserving student and we wish nothing but a continued love and commitment to Talmud Torah.
The flyer that was distributed to the over 500 students that participated in this year's program.
To learn more about this incredible and inspiring program or to get details about registering for next year's program one may contact either Program Coordinator Rabbi Jonah Steinmetz or the Rosh Yeshiva and
RIETS
Associate Director
Rabbi Ezra Schwartz
(contact details can be found on the
YU Bronka Weintraub Bekiut Program
website.